Introducing FaceIT Online, a New, Tested and Proven Tool to Help Adults who have Facial or Physical Visible Differences Manage Appearance Related Distress.
Face It Online is a tested and proven eight-week psychological online program to help adults (18 and older) who have a visible difference manage their appearance related distress more effectively. Visible differences include any kind of condition that affects the appearance of any part of the body or face including skin conditions, amputations, scarring, burns and disfigurement no matter the cause or severity. People who have a noticeable disfigurement often report staring, comments and curiosity from others, particularly when meeting them for the first time.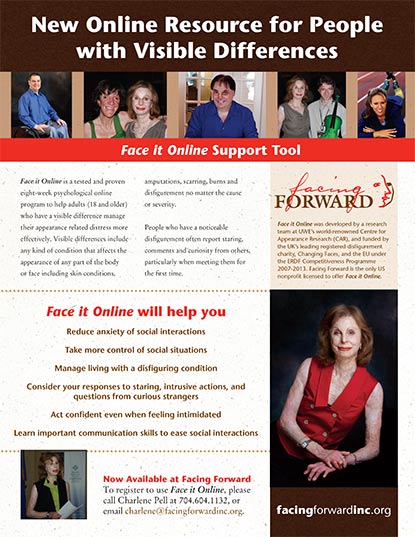 Face IT Online was developed by a research team at UWE's world-renowned Centre for Appearance Research (CAR) and was funded by the UK's leading disfigurement charity, Changing Faces, and the EU under the ERDF Competitiveness Programme 2007-2013. Changing Faces is a UK Registered Charity. Facing Forward is presently the only US nonprofit licensed to offer Face IT Online.